Conventional Builders Are Elevating Roofing Installations
A roofing equipter is changing how roofing jobs are completed — traditional projects can ruin your landscaping with the heavy trucks entering and exiting the property, not to mention the trash and debris that is strewn about and not always tidily taken care of.
Conventional Builders is changing this with the equipter. Now roofing jobs are clean and considerate for everyone on the property, but especially homeowners.
The roofer's equipter is just one more way Conventional Builders provides the best roofing in Vernon!
For A Better Roof, Hire A Roofing Company With An Equipter!
Not only is an equipter good for professional roofers, but they're also great for Vernon homeowners!




Creates A Cleaner Job Site
Conventional Builders No Mess Promise
Let's face it — a new roof can create a large mess. Between removing your old roof and installing a new one, it often looks like a tornado ran through your yard. But, this isn't the case with Conventional Builders.
One of the benefits of hiring Conventional Builders in Vernon is the New Roof No Mess program used by our roofers. With this program, we utilize the self-propelled Roofer's Buggy to collect roofing debris.
This protects your lawn, shrubbery, flowers, and landscaping the number one concern of homeowners when getting a new roof.
The Roofer's Buggy simplifies residential roofing projects and has many unique features to help protect flower beds, shrubbery, and landscaping.
Without the Roofers Buggy, debris and old roofing material are thrown to the ground and manually picked up to be put into a disposal container.
Avoid the mess and landscaping destruction when you partner with Conventional Builders for your new roof installation!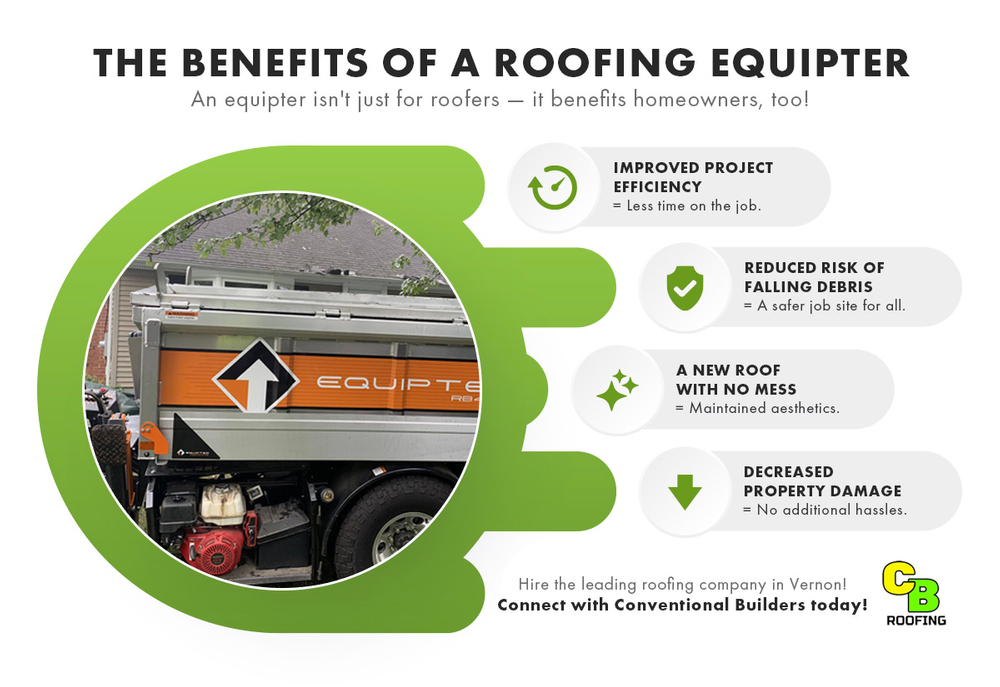 Choose A Roofing Company Who Prioritizes You
Conventional Builders recognizes that installing a new roof can be disruptive, which is exactly why we've invested in an equipter.
Not only does a roofing equipter foster a cleaner worksite, but it makes the job more efficient — the more efficient our processes are, the sooner we'll be done and homeowners can resume their everyday lives.
At times, a dump truck, trailer, or dumpster is placed adjacent to the building for roofers to throw material into. These methods cause damage to lawns, shrubs, or fences by falling debris or by the vehicles themselves.
The Roofers Buggy helps us protect your beautiful landscaping and shrubbery as we remove the existing roofing materials in preparation for a new roof.
The Roofers Buggy is the solution to avoid a mess when we repair or replace your roof, keeping your property clean of debris and your landscaping beautiful.
Implementing a roofing equipter is one of the ways we prioritize and put our customers first!
Get Comprehensive Roofing Services From Conventional Builders Today!
Forgo heavy trucks on your lawn, a debris-ridden yard, and property damage when you partner with Conventional Builders in Vernon.
The roofing equipter alone makes for a much better and more efficient roof installation.
Schedule a new roof with Conventional Builders today!