Vernon's Leader in Storm Damage Repair
Extreme weather conditions are no stranger to the homeowner's of Vernon — from high winds to hail, the four seasons from Mother Nature can take their toll on your home's exterior.
Conventional Builders in Vernon is here to ensure that you have a roof, siding, and gutter system that stays intact and protects your home from the most adverse weather conditions.
When your roof is leaking, has dents and dings, or loses its energy efficiency, Conventional Builders can help.
Get the storm damage repair services your home deserves with Conventional Builders today!
Storm Damage is Unpredictable, but Conventional Builders is Not!

Timely services after a storm hits

Quick and efficient temporary fixes (emergency roofing)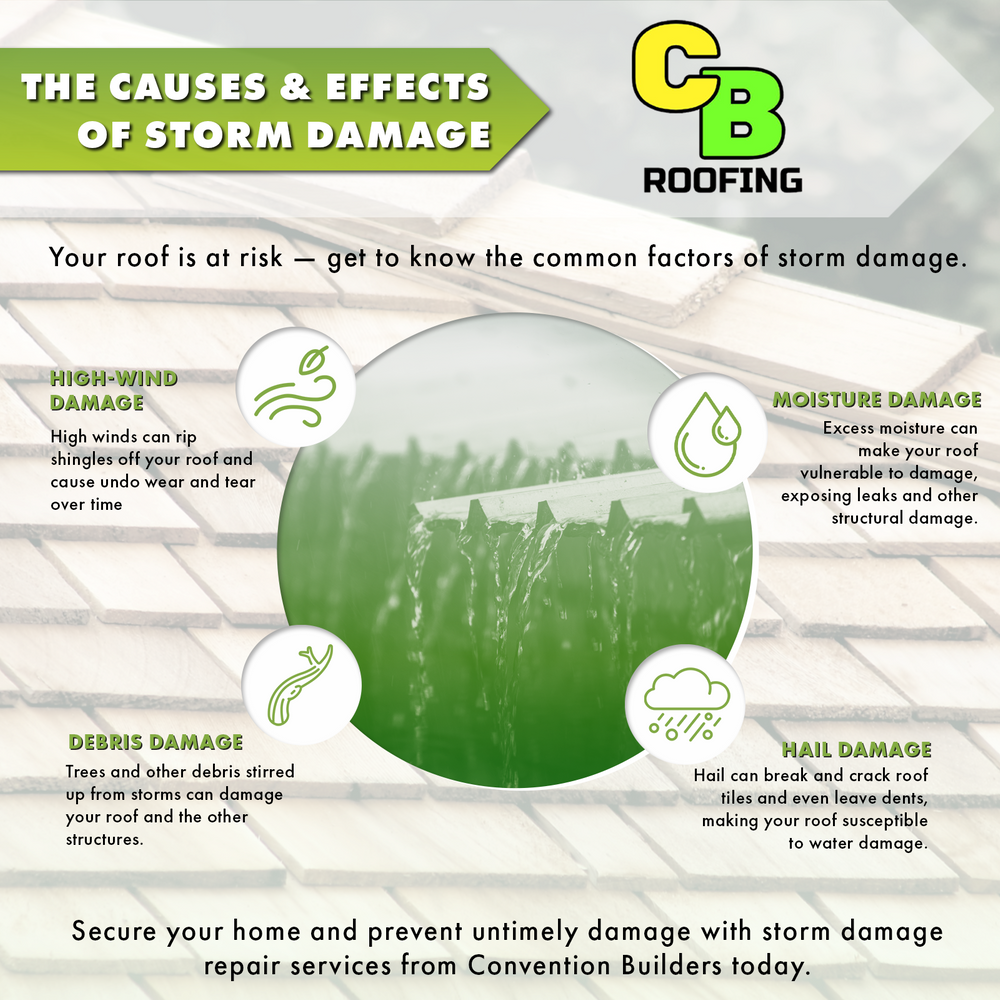 After the Storm Passes, Conventional Builders Get to Work
The exterior of your Vernon home was made to endure, if the outside elements stay outside, they're doing their job! However, with years of wear and tear and exposure to the toughest elements, they begin to break down, and eventually, repairs and replacements need to be made.
Improve the integrity of your exterior and heighten its curb appeal with storm damage repair that combats the damage and remedies the aesthetics. When you partner with Conventional Builders in Vernon you get storm damage repair that tackles roof repair and replacement, windows, siding, and gutters.
Get the storm damage repair your home needs from Conventional Builders today.
Do You Have Storm Damage?
We are the Storm Damage Specialists!
Hail and wind damage can be devastating to your home. Your roofing, siding, windows, and gutters can get dented or even ripped off of your structure.
If you have experienced storm damage to your property, do not wait to call for an inspection. Protect your large investment with storm damage repair from Conventional Builders in Vernon!
Conventional Builders make things happen! We have a claims specialist on staff ready to work with you.
Roof Damage From Hail or Wind
At some point, you may have been in your Vernon home or business during a hail storm. It sounds like someone is dropping rocks on your roof. Essentially, that is pretty close to what is happening. Some hail can even be the size of small softball-sized boulders! Hail can cause shingles to dent or even leave craters in the shingles. Combined with high winds, shingles can be ripped off of a home. You may have seen shingles around your property after a heavy hail or wind storm. This type of damage cannot go unchecked. Missing shingles can lead to water seeping into your roof or your home. Do your property a favor, fix the small issues before they become larger issues.
Even without these obvious signs, you may have damage and not know it!
Most wind and hail damages can not be seen from ground level and go undetected to the untrained eye. If your roof isn't leaking right now, it may leak soon and you don't want to take that risk.
Conventional Builders Puts Vernon First
Storms are stressful, not to mention, the costly damage that can incur. Between failing tree limbs that puncture siding and roofing to cavernous holes that open themselves to the elements — and structural damage — it's integral to have a storm damage repair team that's invested in you.
Conventional Builders always prioritizes Vernon's homeowners, which is exactly why we've created this service. We make it our priority to get to work once the storm has passed, to ensure that your home is safe and structurally sound before we even begin.
Work with a company that is there for you seven days a week, 24 hours a day!
Trust Conventional Builders in Vernon to Handle the Storms
When you have hail or wind damage, you can depend on the Conventional Builders team in Vernon to provide a comprehensive service. We're equipped to handle all of your storm-related repair needs. From missing or broken shingles to damaged siding, gutters, and windows, we have your back!
When you need fast, high-quality storm damage repairs, we'll be there. We stand behind our work, and always deliver on quality and workmanship. To us, customer satisfaction is what comes first — expect exceptional service!
Connect with Conventional Builders today!